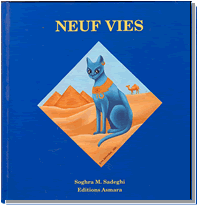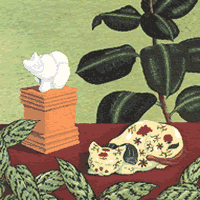 Also available: postcards of the illustrations from the book
Neuf Vies (Nine Lives), by Soghra M. Sadeghi
(In French, 128 pages - Price: CHF 29.00 + shipping)

Hardbound, with original color illustrations by the author. A collection of nine stories, for readers aged 9 to 99, a place to meditate on the history of humankind, marked here and there by a pawprint of wisdom. This little blue book is an invitation, dark blue like the night sky.
In each of these nine tales, a mysterious statuette of a cat comes to life to reveal the goodness hidden in the heart and soul of the protagonists.
Cats have always been quintessentially symbolic animals, with their subtle alchemy of elegance, thoughtfulness and independence; wherever and whenever they have lived they have been the source of tales, legends, and beliefs. From Antiquity to the present day, from the Far East to the West, cats invite us on a journey that leads us to explore both the world around us and our inner selves.
It is not just their aloof pride, sculptural stillness, fascinating gaze, nonchalant languor, or their gravity-defying sense of balance that give cats their power: their supreme skill is their ability to observe us. Cats do not change over time or across cultures, and those who know how to listen to them and understand them will discover what is most important.
The world of these tales is deeply felt and richly entertaining, and woven through their pages is the presence, strength, and wisdom of cats.
Let yourself be guided, succumb to the charm, above all do not be afraid, the cats are there to watch over you and protect you.
The author will be happy to meet you to discuss travel, tales, cats and…the pleasure of writing.